Coming to a city near you! Now Booking Gameplay
Main Street Detectives is a team-based, outdoor mystery challenge with aspects of an escape room and a scavenger hunt, but better! Typical scavenger hunts are usually simple and only require locating specific items. In our game, there's an additional layer… after you find the right location, you must interact with your environment to solve a piece of the mystery. Each puzzle is unique and was custom designed for every site. We design our games so that players get a taste of what Main Street has to offer! If interested in setting up a custom game for your town, please reach out to us using the form below.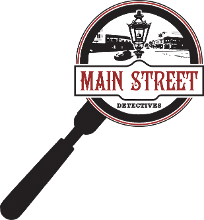 Please show up for all games 10 Minutes Prior to your scheduled time. Follow pregame instructions carefully.